Attention all modellers in Australia, New Zealand and all around the Pacific Rim!
The DCCconcepts "Australia & Oceania only" sale has been going well, with many modellers making great savings…
But it will finish at the end of March!
LESS 15% on everything on our Australian website.
Sale starts NOW and runs until March 31st.
Post, courier or any delivery will be made at cost.
We will also ship tax-free for all export sales.
Log on – look – and save now whilst stocks last!
Terms and conditions:
15% discount applies to the marked price. Price will be adjusted at time of order processing and your discount will be shown on your sale invoice.
Of course, our normal generous DCCconcepts warranties apply to all sales.
Non-DCCconcepts products from NCE, ESU and others are included in the sale, however, discount on these items will be 15% ONLY if they are purchased at the same time as 1 or more DCCconcepts branded products. If purchased alone, their discount will be 10%.
Backorders WILL be accepted: However, please note that to ensure fast delivery we may choose to ship them from Australia or the United Kingdom. (If we ship from the UK, we guarantee the total cost of product + post won't exceed local supply)
It is important to know that you may also be able to take advantage of the sale via DCCconcepts resellers, as this offer will also be extended to our valued trade clients. However, it is THEIR choice, so please ask them first if you wish to purchase locally.
As this is an Australia and Oceania only sale, discount will only be given if you see the website in AUS$.
Alpha Mimic Ground Signals
DCCconcepts Alpha Mimic Ground Signals are finely scaled and have exceptional detail. Despite this, the "cost per signal" is exceptional – less than coffee and cake at most local coffee shops! Mimic signals are totally "Plug and Play" for DCC modellers.
DC modellers or those who want to connect them directly to our Cobalt motors can purchase them without the digital control board for use on their layouts too (see our website or email us for a "how to" instruction).
DCC modellers can connect up to 24 signals to just one Mimic control board and then connect the Mimic control board to the DCC power bus with only two wires!
It could not be easier – Mimic Signals are simple to install, totally Plug & Play and ready to use with the Mimic DCC board provided, right out of the box! Alpha Mimic's simple plug-in approach really is ideal for easy wiring, and it's built-in simplicity and plug-in wiring ability also make Alpha Mimic a great choice for things like ground signals, because most modellers like to link them to the movement of their turnouts.
This combination lets us make the whole process of adding ground signals very easy indeed… …everything becomes a "one connector per signal" or totally plug and play process, with even DCC control taken care of by Alpha Mimic!
At the same time, it lets us tightly control overall costs. The result is that our ready-to-use Mimic Ground Signals are truly great value, and a layout full of high quality ground signals will now cost you far less than you ever thought possible! In fact, despite the fact that our ground signals are very high quality, use correctly coloured LEDs and have some of the best signal detail available, each will actually cost you less than a quick "coffee & cake" for one!
While a Mimic control board needs DCC commands, this does not mean that if you are a DC modeller, you cannot use Mimic signals! By combining Alpha Sniffer with Alpha AEU or Alpha Central, a DC modeller can create a digital accessory bus so that you can gain the simplicity of wiring & other advantages of Digital Accessory control… …while continuing to drive trains with DC!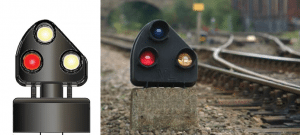 Cobalt Point Motors – Hornby Magazine's FIRST CHOICE
In June 2017, Hornby Magazine reviewed the best-selling point motors available. They came to the conclusion that the Cobalt point motors were "…the quickest and simplest to install from the motors we tested… …Simplicity of installation, setup and reliable operation are just some of the reasons the Cobalt iP point motor has been adopted as the product of choice for Hornby Magazine's exhibition layout fleet…".
Click here to see the full article