DCCconcepts is making a great big world a little smaller…
At the end of March 2018, our operation in Western Australia closed and all orders and customer service are now handled from the UK, where we have recently added staff to cope with growth from the rest of the world, including USA, Oceania and Europe (Our EU support includes 3 new languages!).
We thought long and hard about how to ensure that service was maintained properly for you all without delivery cost increases… and so there are some interesting positives to this change.
As you will see, we have succeeded in controlling delivery costs so with the added benefit of tax free purchasing, you should have lower costs and very timely delivery too! (This applies world-wide).
To learn more, and see the full announcement, please click here…
---
A snapshot of the DCCconcepts Australia "timetable for change":
Our UK office is now processing all web-based orders (We started on the 26th March).
DCCconcepts website is now £ prices only. If you are outside the EU and UK, you will now see tax-free pricing. Full web changeover and other details will be completed soon after Easter.
Thank you for your patience and understanding as we make this transition.
While I am realistic enough to realise that there may be the odd bit of teething trouble, we will do our very best to make it smooth – and, as always, DCCconcepts will continue to do what it is best at… "Thinking outside the square" to bring you new, innovative interesting products for 2018 and beyond.
---
Alpha Mimic Ground Signals
DCCconcepts Alpha Mimic Ground Signals are finely scaled and have exceptional detail. Despite this, the "cost per signal" is exceptional – less than coffee and cake at most local coffee shops! Mimic signals are totally "Plug and Play" for DCC modellers.
DC modellers or those who want to connect them directly to our Cobalt motors can purchase them without the digital control board for use on their layouts too (see our website or email us for a "how to" instruction).
DCC modellers can connect up to 24 signals to just one Mimic control board and then connect the Mimic control board to the DCC power bus with only two wires!
It could not be easier – Mimic Signals are simple to install, totally Plug & Play and ready to use with the Mimic DCC board provided, right out of the box! Alpha Mimic's simple plug-in approach really is ideal for easy wiring, and it's built-in simplicity and plug-in wiring ability also make Alpha Mimic a great choice for things like ground signals, because most modellers like to link them to the movement of their turnouts.
This combination lets us make the whole process of adding ground signals very easy indeed… …everything becomes a "one connector per signal" or totally plug and play process, with even DCC control taken care of by Alpha Mimic!
At the same time, it lets us tightly control overall costs. The result is that our ready-to-use Mimic Ground Signals are truly great value, and a layout full of high quality ground signals will now cost you far less than you ever thought possible! In fact, despite the fact that our ground signals are very high quality, use correctly coloured LEDs and have some of the best signal detail available, each will actually cost you less than a quick "coffee & cake" for one!
While a Mimic control board needs DCC commands, this does not mean that if you are a DC modeller, you cannot use Mimic signals! By combining Alpha Sniffer with Alpha AEU or Alpha Central, a DC modeller can create a digital accessory bus so that you can gain the simplicity of wiring & other advantages of Digital Accessory control… …while continuing to drive trains with DC!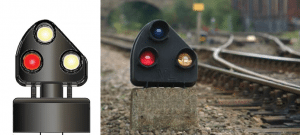 ---
Cobalt Point Motors – Hornby Magazine's FIRST CHOICE
In June 2017, Hornby Magazine reviewed the best-selling point motors available. They came to the conclusion that the Cobalt point motors were "…the quickest and simplest to install from the motors we tested… …Simplicity of installation, setup and reliable operation are just some of the reasons the Cobalt iP point motor has been adopted as the product of choice for Hornby Magazine's exhibition layout fleet…".
Click here to see the full article