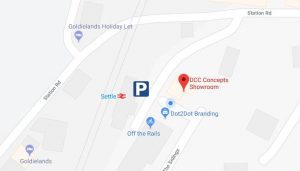 Our Address
UK Showroom and Offices
DCCconcepts Ltd, The Sidings, Settle, BD24 9RP, United Kingdom
Australian Customer Service Facility
For items requiring service in Australia and surrounding areas, there is no need to for you to ship to the UK – we have a facility in Western Australia:
DCCconcepts Ltd, Parcel Locker 10142 90505, 120 – 124 Bannister Road, Canning Vale, WA 6155
Our Australian support advisor can be contacted by email at supportau@dccconcepts.com
Opening Hours
Winter times – Open 7 days. 10am to 4pm November to March
Summer Times – Open 7 days. 10am to 5pm April to October
How to Contact Us
Phone: +44 (0) 1729 821 080
Email: sales@dccconcepts.com
We are always available on the phone during our local office hours as above. Outside these hours, you can get in touch with us using our contact form below.
If you are in need of in-depth information, please don't hesitate to add your telephone number (and time zone) to your emails – It's often better to talk things through, as email often misses the detail and it's important for us to know your approach to the hobby to give the best quality advice and information, so we're happy to call you when needed!
Contact Form