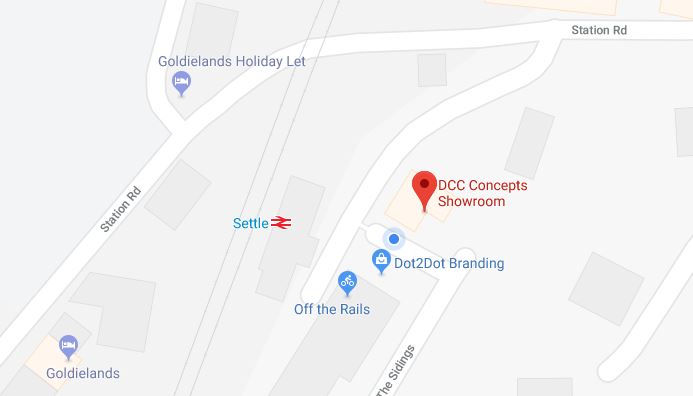 Where are we?
Unit E, The Sidings, Settle, BD24 9RP DCCconcepts are located immediately next to the historic Settle Railway Station. Coming to visit by Public Transport? Settle has a good passenger service - timetables for the Settle-Carlisle railway can be found here: Settle-Carlisle Railway If you're travelling by car, you can program your sat-nav for BD24 9RP and it will take you right to the door. If you're navigating by map, Settle has a direct link to the A65 and is well signposted from both the North and South. Click on the Google Maps link HERE for full instructions from your location. For parking, we would suggest either the Settle Station car park or the Ashfield Pay and Display car park. Both have accessible parking available and are convenient for the showroom. When you get here, you can't miss us!
When are we open?
Winter times - Open 7 days. 10am to 4pm November to March Summer Times - Open 7 days. 10am to 5pm April to October View our Australian shop location and open times. We do want to make it easy for you, so we try to open at times that suit modellers best.
How to contact us?
Phone: +44 (0) 1729 821 080 Fax: +61 8 9437 2471 Email: salesuk@dccconcepts.com We are always available during our local office hours as above, however, if you are calling from outside the UK and do not receive a response, please DO call back later, or send us an email to salesuk@dccconcepts.com. If you are in need of in-depth information, please add your telephone number (and time zone) to your emails - It's often better to talk things through, as email often misses the detail and it's important for us to know your approach to the hobby to give the best quality advice and information, so we're happy to call you when needed!
Contact Form