Cobalt Alpha

Alpha Panel Layout panel for NCE and Roco
Alpha Panel Layout panel for NCE and Roco
Alpha-Panel is a universal Command bus extension panel designed for use with all DCC systems that utilise RJ-12 RS485-type command bus structures.
Alpha-Panel is of course the perfect choice for Cobalt Alpha products, however it is also ideal for users of NCE systems too as it works with both NCE Power-Cab starter kits and the 5 or 10 amp NCE Power-Pro systems. Alpha-Panel also works great with Roco!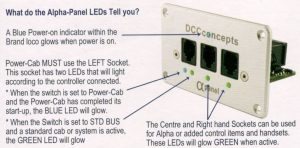 How does the Cobalt α Alpha system work? Cobalt Alpha Range Booklet
Click to view our Curly Cord suitable for the Alpha Panel.
Backorder