Cobalt iP Digital

Sale!
DCCconcepts Ultimate Turnout Control Pack
The ultimate turnout control pack contains everything you need to motorise and control 12 turnouts on your layout.
The contents of this pack create a separate control circuit (or "bus") for the turnout motors, meaning that no matter what system you use for controlling your trains this will work perfectly! DC, DCC, AC, 3-rail – all are compatible with this amazing system!
All you need to add is some wire to take the control circuit around your layout! Take a look at the diagram below to see how easy the pack is to connect together!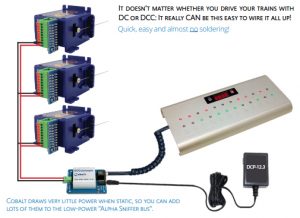 We never stop testing… which is why we can happily offer you a lifetime warranty, giving you peace of mind for as long as you own your Cobalt turnout motors.
Click HERE for the LIVE video from our tester!
Contents of your pack are:
1x Alpha Central Integrated 12-Way Switch (DCD-AEC)
1x Alpha DCC Power Bus Driver (DCD-SNX)
1x 12v Power Supply (DCP-PS12)
1x 12-Pack of Cobalt iP Digital Turnout Motors (DCP-CB12DiP)
Out of stock